In July 2009 the River Crouch was polluted in the area of Memorial Park Wickford. This was found by Peter Steward who contacted Roy Hart. An enormous amount of fish and other species were killed.
Subsequently they discovered flytipped rubbish and organised a
working party to clear this debris from the river.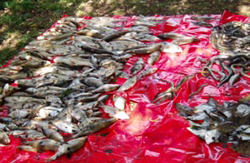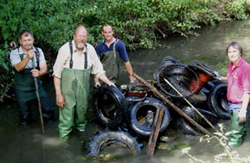 More photos in Working Parties.
---
The River Crouch Conservation Trust was formed in July 2009. The remit of the organization is to clean up the river of rubbish and to bring the river back to a quality which will benefit all forms of wildlife, from water voles, fish to invertebrates and for the pleasure of the general public.
The Directors of the Trust are Roy Hart, Peter Steward and Steve Wastal.
---
Join us on

---
The next Work party will be on October 23rd 2016.

See the latest Newsletter
---
Here are the team of volunteers that took part in our work party on Sunday 12th April 2015.


The top two pictures below show before and after we cleared all the rubbish and debris collected behind a fallen tree.


Take a look at our Facebook page for more pictures Facebook


Even with all the rubbish we removed from the river, it is looking very good and on the day a Kingfisher and Water Vole were seen.
If you would like to come and help please
---
From time to time letters are written regarding the River & Trust.
To see them go to the Letters page